Woo! What a month.
In February, I was mostly heads-down in work until a few weeks ago when I received this message: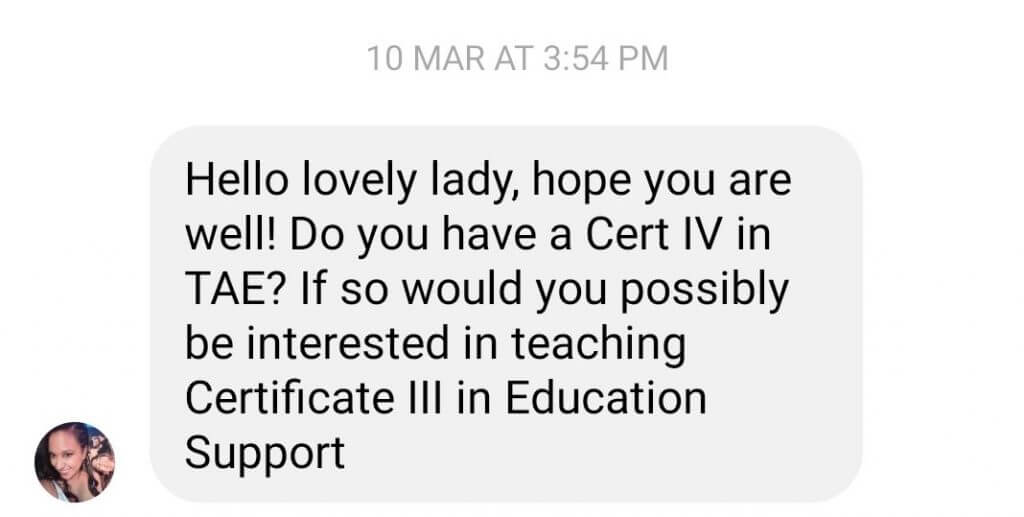 Before this, my main focus was to start building out a learning platform for clients, centralise my existing videos, and start converting my other content to bite-sized learning snacks.
I also changed how my resume reviews are created (have you asked for one yet?) – switching to video rather than a written document.
Oh, and before I go on, click here to learn about me if you are bouncing into this blog for the first time.
A bit of back story on where things are at for me, work-wise.
I'm in this business 3-5 days a week. Usually, I work 1 day in the business and 4 days delivering training governments Youth PaTH initiative.
While we are waiting for face-to-face training to resume its regular schedule (thanks Covid), I'm purely working in the business.
Then this opportunity popped up.
Just like last time (see my August 2020 interview), I wasn't actively looking.
The contact reached out as she knows I'm a trainer, has seen my work, and likes my style.
So, after a bit of back and forth via messenger, a date and time was set for me to meet with the RTO's CEO within 2 days.
The position
Ok, so this role was for a trainer within an RTO, delivering a Cert III in Education Support.
Now, some key things I did before agreeing to meet with the CEO.
✅ Verified the number of workdays
✅ Found out which days I'd be training
✅ Scoped out the start date
Why the heck did I ask these questions? Well, because I have a 3-year-old in daycare. Plus, I have a business to run.
The working days need to align with my current daycare schedule, and I needed to make sure this wasn't a full-time position. I'm not willing to compromise my time with my son.
My resume
Since there was no formal application to submit, I can't give you a detailed overview of the critical things I would have changed v's the advertisement.
But, I knew the CEO would want a copy of my resume, so I made a few edits to my existing document.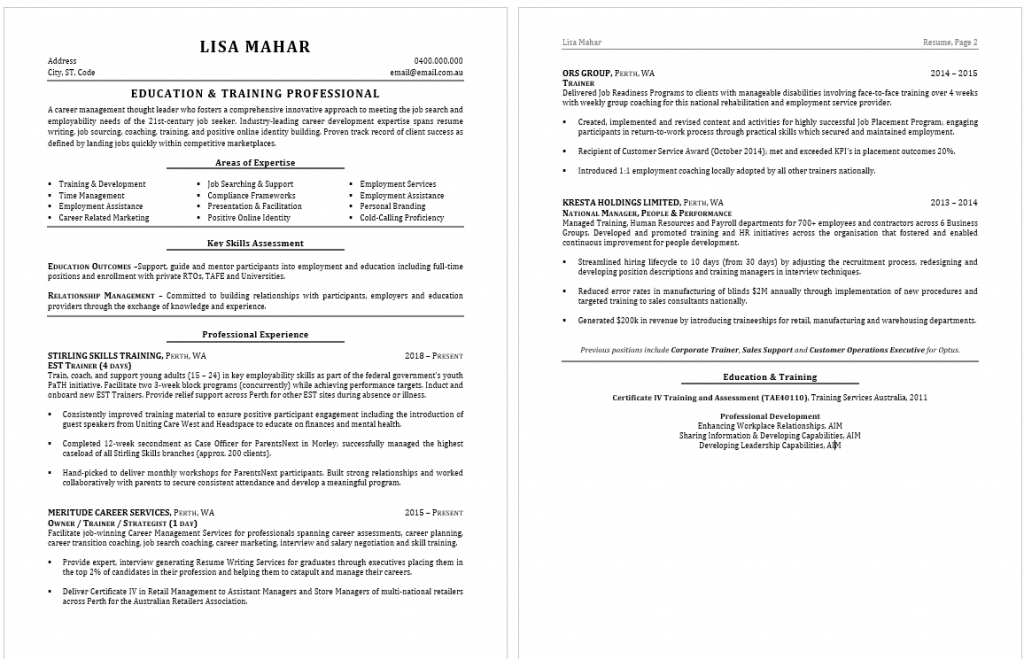 The edits I made to my resume included:
✅ Title – note it's aligned to the position
✅ A few keywords in my summary
✅ I re-organised my 'Area of Expertise' to prioritise different keywords
✅ Swapped out some keywords for more training ones
All of that took me about 5 minutes (tops!).
The interview
Ah, now don't be fooled. This is where people can easily fall over.
Just because I have a solid relationship with this contact and she put in a good word with the CEO does not mean I could slack off on the interview prep.
I made sure I had a copy of my TAE qualification, units and resume. Plus, I printed out the units for the Education Support certificate.
I also spoke with my references to give them the heads up.
Clothing Lisa! What did you wear? Here is what I chose for this interview.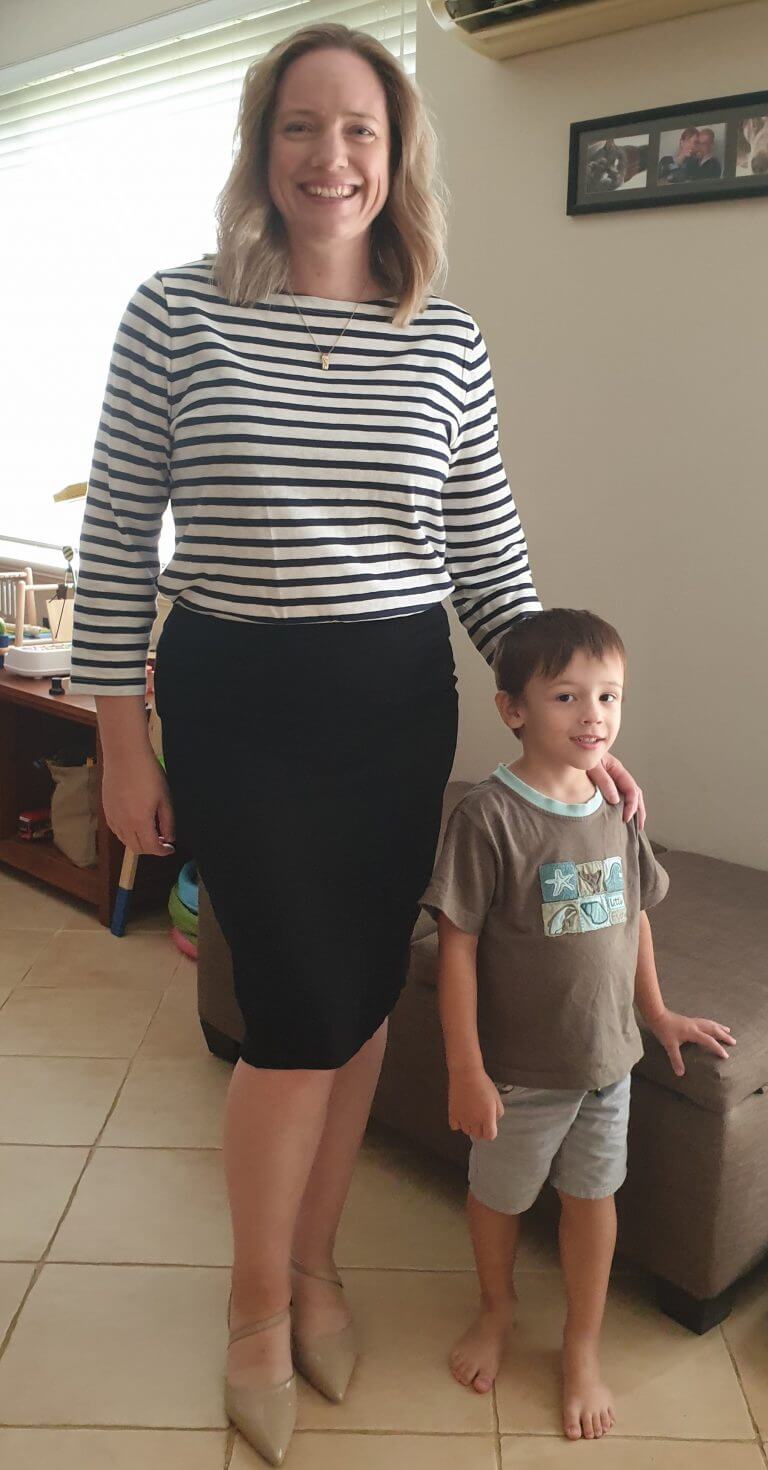 Let me tell you; it was HOT in Perth!!
Even though I knew this would be more of a casual meeting/interview, I still elevated my dress standards.
I didn't know exactly how this CEO was going to be dressed – she could have gone either way – so I went dressier than what an everyday trainer would wear.
But, I didn't go full suit.
For the record, the CEO was dressed more casually than me, but not so much that I looked WAY overdressed.
How the interview ran
Ahhhhhh, sigh 😀
These are my kind of interviews. The type where you blissfully connect with the other person and have a great chat.
She was late by about 15 min for the meeting as she'd been in a mentoring session.
The ease of the conversation went from there because I know the founder of the organisation she is mentoring.
Plus, I have consistently registered my young adult job seekers in THAT program.
Overall, it was a fluid conversation that seamlessly moved across all key touchpoints about what she needed and what I could offer.
What was I asked?
Nothing I wasn't expecting.
I anticipated I wasn't the right person for the role but maybe a suitable temporary solution until they found the right trainer.
Most questions wrapped around my professional experience, my qualifications, availability etc.
The outcome
Ok, so in this case, 2 key things were non-negotiable.
Full-time – the option for anything less just wasn't achievable. Even though the actual training days are less than this.
Up to date TAE credentials – because she wanted someone permanent, not to simply fill in for a few weeks.
However, it wasn't a complete no. She needed someone for other work on a more casual basis.
We exchanged emails, and I gave her my resume. 👏👏👏👏
I promised to reach out once I completed my upgraded qualification, and we can pick up where we left off.
I sent a thank you email later that day to both her and my contact.


Takeaways from this application
While from the outset, it might seem like I'd say, "Lisa, you should have been up to date with your qualifications – you almost cost yourself a job!"
There has been an important reason I haven't.
Money.
I've had other pressing issues to deal with since 2019, when the change to my qualifications happened.
It's only now; I'm able to revisit this line of professional development.
So, I'm not beating myself up about that. But the other takeaway that springs to mind is the importance of your network.
Keep nurturing it!